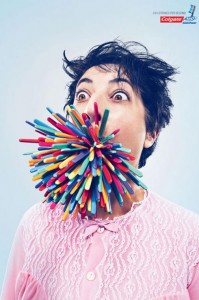 There are several ways to brush your teeth, all of them correct, each one designed for specific indications. The most popular one for adults is the so called Bass-technique, but this doesn't necessarily mean, that it fits your needs. The best way to get it right from the beginning is to discuss this with our team. So book your appointment and let us find your personalized way of teeth brushing!
In the meantime, let us give you some answers on questions you might have:
Frequency:
We advise you to brush your teeth at least twice per day. In cases of severe periodontitis better three times. What you should never forget is to floss, at least once per day, preferably in the evening. Because a brush cannot reach the interdental parts, in most times the places where decay and/or periodontitis can ignite.
Time:
If you are using an electric or sonic brush, you don't need to worry about that, as the time needed is already embedded in the cleaning programs. But in general keep this in mind: Virtually separate your tooth in four quadrants (upper right, upper left, lower right, lower left) and invest about 30 seconds for each one of them. During this time, try to angulate the brush in order to reach every possible tooth surface and the adjacent gums.
Pressure:
Both teeth and gums don't need much pressure to get cleaned. Think of the brushing as a massage for the gums. If you feel any pain or if it starts bleeding, then you push way too much. If you use electric or sonic brushes, it's the weight of the brush that can do the job for you.
Controls:
Even if you do everything right, don't postpone or miss your regular visits. Our goal is to just help you keep the hygienic standards you expect for your oral cavity. Therefore we advise you to follow our customized recall-programs, as they are set up to serve your personalized needs.