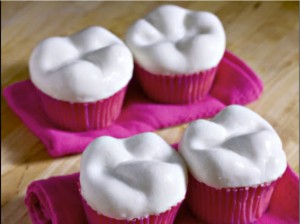 Dentists are supposed to be able to mold teeth out of various materials. The ones specializing in esthetic dentistry even more. Some tend to have some artistic ideas, which can flow into… baked teeth for example. This particular specimen is – unfortunately – a non-sugarless-but nevertheless amazing-cup-cake, found on the internet. For all the bakers among us, you can follow the link onto ericas' page
.
It might inspire you, to bake cakes in different forms, and surprise your friends, guests etc.
We wish you endless happy hours in the kitchen!
[In courtesy of www.ericasweettooth.com]
[fb_button]